First Down Dash (1984-2010)
The greatest sire of all time and his legacy will continue for a long time to come, the news article below will briefly touch on his death with more to follow.
LOS ALAMITOS, CA—NOVEMBER 26, 2010—The entire family of Los Alamitos Race Course is saddened by the news of the passing of the greatest Quarter Horse stallion in our generation. Rest in peace First Down Dash.
First Down Dash (1984-2010)
"He laid down and went to sleep, peacefully, yesterday morning," said Bonnie Vessels of Vessels Stallion Farm. "He was missing Scoop and his sunflower seeds," she said referring to her late husband Frank "Scoop" Vessels.
Ed Allred, the sport's all time leading breeder, released the following statement about First Down Dash. "First Down Dash is unquestionably the greatest stallion of all time. No horse has had the influence of the great First Down Dash. He was an amazing horse. He was a sire of sires. What an incredible and great career…. He was in one word 'Amazing'."
Bred in Oklahoma by A.F. Stanley Jr., and B.F. Phillips, Jr., out of the Gallant Jet mare First Prize Rose, First Down Dash surpassed the legacy at stud that started with his own sire, Dash For Cash.
Mildred Vessels purchased the phenomenal horse at the Phillips Ranch Yearling Sale in the summer of 1985 for $97,000. He was one of the first yearlings broke at the new Vessels facility near Bonsall, California.
Trained by Mike Robbins, at 2, the colt won five of six starts including the grade 1 Dash For Cash and Kindergarten futurities, while earning $518,120. Champion trainer Blane Schvaneveldt took over training duties in 1987 to saddle the sorrel speedster to eight wins in nine starts. Those wins included the Champion of Champions(G1), Los Alamitos Derby(G1), QHBC Championship Classic(G1), Dash For Cash Derby(G1) and Laddie Handicap(G2).
First Down Dash was named the 1987 AQHA Racing World Champion, Champion 3-year-old and Champion 3-year-old Colt.
With 13 wins in 15 starts and earnings of $857,256, First Down Dash was named the AQHA Racing World Champion, Champion 3-Year-Old and Champion 3-year-Old Colt of 1987.
Under the guidance of Scoop Vessels, First Down Dash got off to spectacular start as a stallion by siring the winners of the rich All American Futurity(G1) in each of his first three crops to race.
In 1993 Vessels syndicated the stallion for $7 million, the first successful syndication in Quarter racing industry since the late 70's early 80's. The investor's earned tremendous returns and it opened a market for Quarter Horse stallion syndicates that continues today.
First Down Dash is the all-time leading sire in every category. From 21 crops to race, he has sired 1,593 starters, 1,163 winners(73%), 224 stakes winners(14%), 213 stakes-placed(13%), and 35 champions. Through November 23rd his get have earned $73,743,088 with average earnings per starter of $46,292. He is also the #1 sire of millionaires with 11.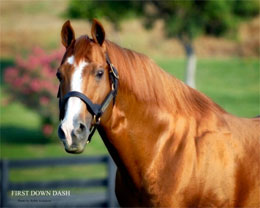 First Down Dash in his paddock at Vessels Stallion Farm near Bonsall, California.
Robbi Knudson Photo
Among his leading money earners are champion Ocean Runaway ($1,642,498), All American winner No Secrets Here ($1,637,095), champion Corona Cash ($1,542,880), champion Corona Kool ($1,296,797), champion Falling In Loveagain ($1,210,375), champion FDD Dynasty ($1,173,001), world champion A Ransom ($1,079,556), champion A Classic Dash ($1,078,617), champion Dash Thru Traffic ($1,056,943), champion Royal Quick Dash ($1,046,980), world champion Wave Carver ($1,005,946), etc.
As most stallions begin to "taper off" in their older years, First Down Dash has continued to dominate the industry. This season he is currently the #1 leading sire of two-year-old money earners with $2.59 million and #2 leading sire for money earners with $3.6 million.
He has sired four grade 1 futurity winners in 2010 including Bodacious Dash, Texas Classic Futurity(G1); First Down Illusion, Ed Burke Million Futurity(G1); Givinitaroyaleffort, Heritage Place Futurity(G1); and Hes Too Icy For Me, Rainbow Futurity(G1).
Every single horse in the 2010 Los Alamitos Two Million Futurity(G1) field (to be contested on December 10th) is either a son of First Down Dash, out of a First Down Dash mare, or sired by a son or grandson of First Down Dash.
He will be missed by all.
.